

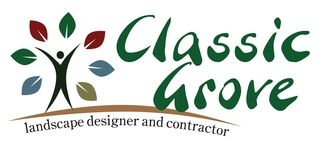 you can still have a
great garden despite
the drought......................
* NEW DESIGN FOR YOUR OUTDOOR
SPACE WITH THE USE OF
* PAVERS, GRAVEL, BARK, COBBLES,
PEBBLES, SLEEPERS TO REPLACE DUSTY
PATCHES DUE TO THE DROUGHT
* USE OF EXISTING AND NEW PLANTS
photographs and
landscaping on this
site have been taken
and created by Linda
none of the images are from other sources
I, the owner Of Classic Grove, Linda Bruwer, have been designing Gardens for 25 years . I studied designing in both South Africa and Southern England. Designing is My Passion and I have designed Gardens for local and international clientele.
My love for the outdoors goes beyond my earliest memories, as well as a love for the things biological rather than mathematical! My heart has always been captured by nature. Through the years I have developed a stronger love and appreciation for the life of plants and animals that surrounds me, especially here in South Africa.
My passion for creating gardens and enjoying nature led to the establishment of Classic Grove Landscaping. We operate within the Nelson Mandela Metropolitan Municipality and surrounding districts.
CLASSIC GROVE, "LET US DO THE WORK FOR YOU!"


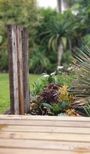 The process
Creating your new garden space, step by step
Classic Grove will design your outdoor space with you, walking hand in hand, every step of the process. We'll create a design/landscaping package that is carefully tailored to your needs e.g. paving, irrigation, decking etc, as well as budget and timescales.

I, Linda Bruwer will personally oversee each stage of the landscaping project, keeping you fully informed from the design stage as well as every step of the way during the groundwork and construction through to the final planting and completion of your project.
The Budget does play a huge role in the end result. Please consider carefully what your budget is. I always design with your personal needs and requirements taken into consideration as well as finding the best solution for your specific outdoor space. I do not duplicate designs, but tailor each project to suit your specific space, budget and requirements.

Classic Grove will create the perfect planting scheme for your garden :
Low maintenance planting for a busy lifestyle, colourfully stocked flower beds for a traditional garden (for those of you who have access to tank or underground water during this drought) and exotic plants for the dramatic impact in your garden, and water smart landscapes. The styles of gardening are endless, so do a bit of homework as to which type of garden you wish to have. Contact us and we will turn your garden idea into a reality!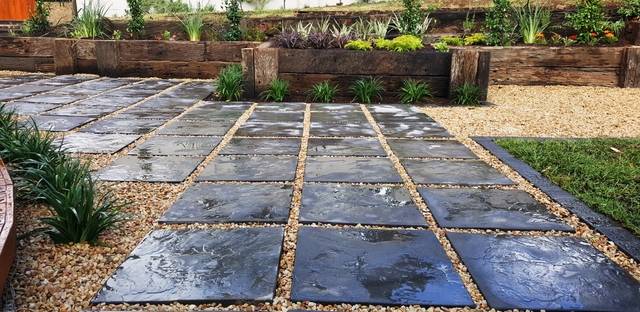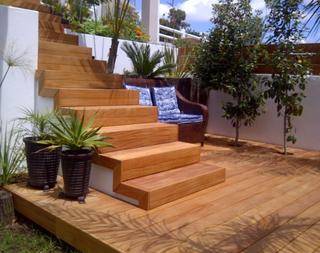 * small courtyard revamps
* adding new life to drought
sticken gardens, any size!
* tired garden = clean-up
* creation of new gardens
* design and contruction
of anything "garden"
* hard and soft landscaping
Choosing a landscaper
Six easy steps to follow:
Step 1
Identify what you want from your garden. This creates your shopping list of features you'd like your designer to have experience with (a pool, seamlessly fitting a play structure, an outdoor kitchen) as well as things that aren't as important to your family (a waterfall or a dog run).

Step 2
Attend local garden tours/expo's. Local garden tours/expo's highlight some of the most beautiful garden ideas and layouts. Often, the design is the highlight of the garden. Look at the brochure you received at the venue to identify which designer's gardens you think best fits your goals for your garden.

Step 3
Ask friends for recommendations. Your friends are frequently your best resource. They'll give you the real skinny on the type of work you can expect from a landscape designer.

Step 4
Go online. Many landscape designers offer pictures and recommendations online. It's a great place to start, especially in the winter when it's difficult to go on a garden tour.

Step 5
Ask your contractor. Many building contractors have experience working with landscape designers. If you have a contractor you trust, check in with her to see who she recommends.
Step 6
Talk to your local nursery. Local nurseries are tuned in to the local garden scene. Ask them whose work they've seen and who they'd recommend.
Source: www.ehow.com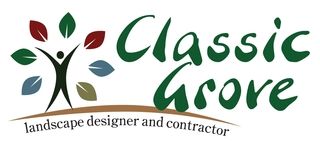 Contact form
Complete and submit
Using this site means you accept its
terms
| Copyright © 2023 Classic Grove Landscaping, Port Elizabeth, South Africa.
| website by